Our Kickboxing Classes Help You Get Fit And Stay Safe
Looking for a high-energy Fitness Kickboxing program?
What about a self-defense based Muay Thai class?
At Johnny Karate NYC, we have both and so much more. Our Kickboxing program is giving men and women across Carroll Gardens the chance to challenge their bodies and build striking skills like never before. We are proud to train people of all ages and abilities.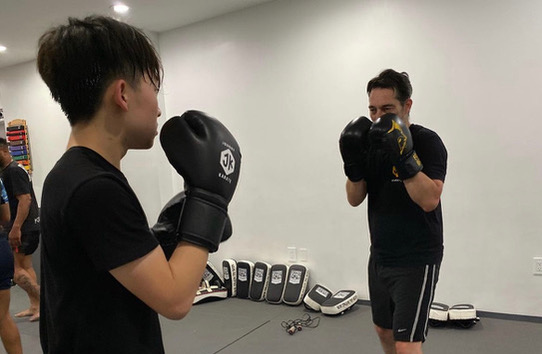 Just fill out the short form on your screen to get started today!
Our Fitness Kickboxing Classes Help You Get The Most Out Of Every Workout And Have Fun In The Process
Don't let a boring workout routine hold you back from staying active. At Johnny Karate, high-energy fun is the name of the game and our Kickboxing classes are no different. We're helping men and women challenge their bodies, learn effective striking skills, and stay motivated week after week.
It doesn't matter if you're a complete beginner, an experienced athlete, or somewhere in between. We're here to help you thrive.
Our Kickboxing Classes in Carroll Gardens include:
Beginners Kickboxing: Maybe you're looking for a way to build your striking skills and learn something new every day? This class is perfect for you. Our Beginners Kickboxing Classes offer hands-on instruction for everything from jabs and head-high kicks to balance, coordination, and speed.
From Day One, You'll Take On A Great Total-Body Workout
No matter what program you choose at Johnny Karate NYC, we're here to help you get the most out of every movement.
We're making fitness fun by combining total-body workouts with a high-energy system of support and motivation. We keep your body guessing week after week with new challenges every class and we help you set goals and stay motivated on the path to improved performance.
Our Kickboxing classes in Carroll Gardens can help you:
Build lean muscles across your entire body
Burn fat and keep it off like never before
Develop dynamic athleticism in no time
Walk away feeling more confident than ever
Try It Out Today! Join Us Carroll Gardens For The Best Kickboxing Classes Around!
Don't miss out on your chance to challenge your body and have fun in the process. Our Kickboxing Classes at Johnny Karate NYC are great for all experience levels.
Just fill out the short form on your screen to get started or to learn more about everything we have to offer here in Carroll Gardens.